`Night Night`
16/02/2019
This lovely polar bear has given me plenty to think about as I have worked on him, so many things have not gone according to plan, and as such, I have had to make so many adjustments. I have changed the background almost completely to try and put him in a more appropriate scene for a polar bear. Grateful thanks to all who have made helpful critiques along the way. It has really helped and I hope you like him now, I am certainly feeling much happier with my sleepy head. Extra special thanks to Bob Barton for the most amazing photo reference to work from.
`Just Snoozing` 3
30/01/2019
Have darkened the background around the bear to ensure he stands out more and the grass has been thickened up too. I have also started to work some detail on his fur, the highlights will be put in last so he is still looking quite dark for a polar bear right now. After receiving some feedback on this painting I am now thinking of changing the background...this is going to be tricky...will be interesting to see how it turns out...watch this space !
`Just Snoozing` 2
21/01/2019
Have blocked the background in on this session but must admit am unsure about it at the moment. The undercoats have been added to the bear with some of the highlighted areas worked on too, his colours will change quite dramatically as my work on him continues, we tend to think of a polar bear as white but it is surprising how many colours I can see in his fur from the photo reference I am working from.
`Just Snoozing` 1
14/01/2019
Back to my `other world` and my first painting of 2019 on the drawing board at last. This polar bear has taken my fancy this time, he looks so peaceful snoozing away there. Am working on a sand coloured paper and the initial sketch is complete with just a hint of colour added here and there. With grateful thanks to Bob Barton for the fantastic photo reference I am working from.
`The Fox`
08/12/2018
It is always tricky trying to think of a good title for finished work. Leaving this one as `The Fox` for now. Suggestions always welcome. All the detail work completed today and the eyes and nose have been given a bit more zing to make them pop too. I think I am ready to call this one finished now. I hope you like him. Special thanks to Samantha Georges for another amazing photo reference to work from.
`A Fox` 2
29/11/2018
I have chosen a simple background which didn`t take long at all and then set to work on his features strengthening those gorgeous eyes and that cute little nose. He is really coming together now with just the detail work to complete.
`A Fox` 1
25/11/2018
I must be out of practice, I forgot to photograph my initial sketch on this one so this is actually from my second session. Samantha Georges is the photographer of the photo reference I used. Am so grateful to the photographers who give permission to use their photo`s to artists. This particular fox is my all time favourite, simply because I have painted him in several different poses. Isn`t he just beautiful ? I use light grey paper usually, but decided to use a sand colour for this piece. Lot`s of work on the eyes in this session but a long way to go yet with them. All the base colours are in on the fox so I must decide on the background next
`The Wolf`
24/10/2018
So delighted and proud to discover that my wolf painting won the favourite by public vote at Tondu Art Society Autumn Exhibition. Special thanks to all those who took the time to vote. It really is lovely to know that people like your work enough to vote for it :-)
`Snow Tiger`
22/10/2018
And here he is complete. I got so carried away with this one that I forgot to photograph after adding the base colours to the tiger. I then brightened the background a little before following up with some detail work on the fur and strengthening the eye colours. The final step was to add the whiskers. Thanks again to Tazi Brown via Wildlife Reference Photos for the fantastic reference to work from
`Tiger` 2
20/10/2018
Have added the background in on todays session. Have also added a little more colour to the eyes and nose. It`s coming together really nicely so far, am looking forward to adding some colour to the tiger next
`Tiger` 1
18/10/2018
The start of a new artwork and this time I have chosen this handsome tiger in the snow from wildlife reference photos. With grateful thanks to Tazi Brown, the photographer. Have nearly completed the initial black and white sketch here, with a little work completed on the eyes and nose too...and just a touch of colour added
Miniature Painting !
15/10/2018
Here are a couple of miniature paintings that were recently completed for an exhibition with Tondu Art Society. I used watercolour and inks for both and enjoyed doing these very much. Am pleased to say that the little sunset one on the right went off to a new home, and the one on the left is currently in residence at Porthcawl Art Society
`Poppies`
09/10/2018
Have been way out of my comfort zone with this piece. It has been lovely to work with such vibrant colours for a change though, and through trial and error, I have, at last, managed to complete my first flower portrait. Painted in watercolour and pastel. The beautiful photo reference I worked from was by kind permission of Terence Porter
Something different...
30/09/2018
Have completed the background which is worked in wet into wet watercolour, it`s a really fun exercise as it`s just a matter of wetting the whole sheet of paper and then dropping the different colours in, it`s a lovely effect. The main subject will be worked in pastel over the top of this base.
Rex
22/09/2018
This is the little dog Rex all finished (I think) I would like to say that I`m all better now but unfortunately not. I seem to be stuck in a bit of a painful place making very little progress with my recovery. Am hoping my art may help in the coming weeks, I have rested enough, it`s time to push to get myself back to normal now. So, although little Rex has pained me a little along the way, I am treating this as therapy from now on, it`s much more interesting than physio and it`s definitely getting my arm moving a bit more. It took me ages to decide what to do for the background, this grass effect works rather nicely I think. The final detailing has taken me several on and off sessions but I made it eventually and I think he was worth the wait. He is a cheeky looking chap isn`t he ?
Little Dog 2
08/09/2018
After dislocating my right shoulder over the August Bank Holiday Weekend I have been out of action for the last couple of weeks. The little dog has just been sitting there looking at me, and I him, recovery has been very slow and difficult as I`ve not been able to do anything much at all. I decided to grin and bear it today, kill or cure as they say. So, I worked for a bit and then rested a while and time ticked by without me realising how long I had spent in my other wonderful world. My little dog is starting to come together, but there is still quite a lot of work to do yet and, of course, the background...I need to make my mind up about that. Not now though, as I am suffering a bit this evening, so it`s time to rest and recover a little more before I attempt another art session !
Little Dog 1
21/08/2018
This lovely little dog is a commission that I have recently started. Have not followed my usual routine with this artwork so it will be interesting to see how I get on with it. They do say that a `change is as good as a rest` though so hopefully all will be ok. After sketching out I have concentrated on the head area, with an initial colouring of the eyes and nose put in, a little work on the collar and some blocking in of the base colours on the head and ears. Am unsure what to do for the background colour so will leave that for now !
The Grey Wolf
12/08/2018
Here is the lovely wolf all finished. Have added a lovely warm orange to the background colour to compliment the colours of this beautiful animal. The rest of my time has been spent on all the detail work and adding the final touches to the eyes and nose too. He is looking rather handsome I think. With grateful thanks to Paul Fine for the fantastic photo reference I worked from.
My new art desk
11/08/2018
This is what I bought with money that I had for my birthday. I absolutely love it, it is perfect for my artwork and has given me a little more space too. Am looking forward to using it on my next session with the beautiful wolf today
The Wolf 2
05/08/2018
Not a great deal of progress since my last post but the background has been blocked in lightly, some of the base colours have been added to the wolf too along with a bit more work to the eye and nose areas.
The Wolf 1
21/07/2018
My artwork is a bit slow of late as the lovely weather is affecting my time spent in `The Studio` (Conservatory). It is just too hot in there for the majority of the time. I have turned my attention to other things instead and am building a little book of watercolours, mainly from early morning walks, they are just rough little paintings really but am enjoying making these little memories of time spent outside walking along the coast/countryside and the odd weekend away too. This has also led to me rejuvenating my interest in collecting geocaches whilst out and about too.
I have a couple of commissions on the back burner while waiting for the weather to turn cooler but I also have this gorgeous wolf in progress too. Am just having a little dabble whenever I can so it is coming along slowly but surely. This was my first session of sketching out in black and white and adding a little colour to the eyes too. With grateful thanks to Paul Fine for the amazing photo reference to work from
`Holly`
06/07/2018
I think the lovely Holly is now complete. Have spent the last couple of hours on the detailing and tweaking and am very pleased with the finished painting. Worked in hard/soft pastel on velour (owners own photo reference) I hope they...and you, like it too
`Holly` 2
05/07/2018
I love the colours in this gorgeous dog and she is progressing beautifully. All the base colours are in now and am just starting to build up the layers of her lovely thick coat. Lots of work completed today on her eyes, nose and mouth with just the final detailing to add in these areas. Am really looking forward to spending some more time working on her again soon.
`Holly`1
02/07/2018
Have not done much artwork lately, mainly due to the heatwave, my art studio is in my conservatory and it`s been unbearable in there. It`s been very strange, but thankfully there has been a bit of a breeze these last few days so I am back in business, (as they say), at last. This is Holly. A very good friend asked me if I could do a pastel painting of her a few years ago...but it is only now that Holly has found a place on my drawing board. This is at the end of my first session where she has been sketched out in black and white. I always add some colour somewhere at this stage, (usually the eyes), but today I decided to add some base colours to the background and a hint of colour to the tongue. Am really enjoying this one already, such a beautiful subject for me to work on
`Best in Show`
01/07/2018
Absolutely delighted to share the `Best in Show` prize, as voted by the public, with my fellow artist and friend Lydia Nicholson at Porthcawl Art Society Summer Exhibition 2018. It was such a lovely surprise to hear that we were joint winners for this new award that has only just been introduced within our art group. With grateful thanks to everyone who visited and voted. We are chuffed to bits !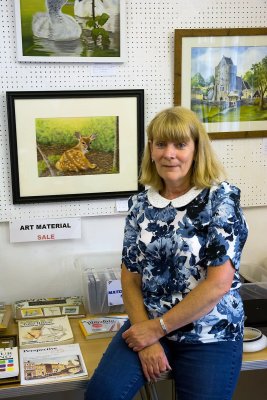 `Highly Commended`
17/06/2018
With such an abundance of fantastic artworks in Porthcawl Art Societys New Summer Exhibition. it was so lovely to be awarded highly commended for my pastel painting of the beautiful fawn. We were delighted to welcome our judge, Vicki Washbourne, who is a member of Tondu Art Society and an amazing watercolour artist. A good time was had by all who attended our awards evening.
New Summer Exhibition at Porthcawl Art Society
16/06/2018
Our new Exhibition is now open and there is a lovely variety of different subjects to view up in the gallery. We have also included a new award this time, asking our visitors to vote for their favourite painting to determine our `Best in Show` winner (as voted by The Public). The voting for this award will continue over the next two weeks. We are open again tomorrow (Sunday) from 11.00am until 3.00pm and are at The Old Police Station, above The Museum in John Street Porthcawl if you fancy dropping by.
`Macca`
09/06/2018
A commission worked in hard/soft pastel from owners own photo reference. This handsome dog has taken me some time to complete. Very tricky working on all that hair I must say. Am pleased to report that his owner is delighted with the finished painting. Fantastic news !
`I am Beautiful`
02/06/2018
So thrilled to see this beautiful fox painting from our Animal and Wildlife Exhibition in The Pavilion Porthcawl go home with my biggest fan today...my Mum. A favourite subject of mine so am sure it won`t be long before I have another one on the drawing board. It`s been a glorious day spent with family who travelled down especially to view my current artworks on exhibition. Good times ! With grateful thanks to Samantha Georges for the fantastic photo reference I worked from to produce this pastel painting.
Bamburgh Beach
28/05/2018
I went to a demonstration evening in the week and decided to try out some of the techniques that the artist (Graham Cox) showed us. We all really enjoyed the evening and today I also really enjoyed working on this beach scene. It`s worked in hard/soft pastel on a smooth paper. Have not attempted anything like this for several years but am pleased with the results. I may even do another land/seascape some time. With grateful thanks to Pauline Capewell for the photo reference I worked from.
`Reach out...and take my hand`
11/05/2018
And here is the orangutan complete. The final session has been taken up with adding all the detail, which always takes the longest, but is also the most satisfying I think. I love the rich colours in my subject and also the strength of emotion that is so apparent in this piece. I hope that you can feel it to
With thanks to Angela Souther Smith for the fantastic photo reference to work from
This weeks local paper...
02/05/2018
So delighted to get a mention in our local paper this week. It was a lovely little write up and will hopefully bring a few more visitors in to see our exhibition too
Orangutan 2
29/04/2018
Have made some more progress today. Am surprised how tiny the eyes are on the orangutan, quite tricky to work on but looking good so far I think.. The tree is starting to come together a little bit now too. All the base colours are in at last so will be starting all the detail work on the next session.
Feeling fantastic...
29/04/2018
My first sale from the exhibition at The Pavilion. Am absolutely delighted. It`s such a great feeling to know that someone likes your work enough to buy it. If I was a cow I would definitely jump over the moon right now :-)
Woo hoo !
Orangutan1
27/04/2018
I have really missed my art time over the last couple of weeks so it is so nice to be back at the drawing board at last today. I have chosen this orangutan for my next subject as I took a fancy to his pose. The initial sketch is complete with the background blocked in lightly. I have just plonked a tree in there for his perch without thinking about it at all really. Hopefully I can make it look a bit more realistic than it does now as I progress further ! The eyes are calling to me first though :-)
Our Exhibition is now officially open !
25/04/2018
It`s been an extremely busy and exciting time in the run up to the launch of our first Duo Exhibition at The Pavilion Porthcawl. Time to relax a bit now and get back into some artwork again as the Exhibition runs on. Hope that all the visitors enjoy seeing our work.
At the Launch Evening...
24/04/2018
What a night. The weather was absolutely atrocious with wind and non-stop rain. We didn`t expect anyone to come. But we were pleasantly surprised, and we all had a lovely evening.
And they are up !
23/04/2018
Have spent the morning at The Pavilion with all the paintings going up and down and here and there to get it all just right. The picture on the right shows one section complete. Between us, Lydia and myself have thirty five paintings in this exhibition. It all looks amazing...can`t wait for the launch now !
Nearly ready for the new exhibition...
22/04/2018
Final stages underway today, it`s surprising how long it`s taken to get everything ready. A few hiccups along the way too but have managed to overcome them all, thankfully. Heidi is saying: `Have you nearly finished now ?` Me:`Yes, almost ready Heidi...only the packing up of them all now, finding a way to fit them in the car and then we`ll be home and dry` Excited muchly !

Smile Please
08/04/2018
Chose these cute little piggies for a quick study with some mixed media for a change today. I used watercolours first on the background and the little piggies and then added some pastel for a bit of texture. A fun little exercise for a Sunday. With thanks to Kerli Toode for the brilliant photo reference to work from.
Hello my Deer !
07/04/2018
Have spent my Saturday working all the detail on the little fawn and she is looking rather lovely I think. A beautiful subject. I have also strengthened the background and given the tree on the right a bit more definition too which has improved it a little. Worked in hard/soft pastel on velour. With thanks to Lenora Melville for such an amazing photo reference to work from
Just Resting 2
02/04/2018
Have had a couple of hours to work on this lovely piece again today. The background has taken up quite a bit of time and am pleased with the overall effect although I am not too happy about the tree trunk on the right at the moment. A little bit more work completed on the fawn with further work on the eyes and nose too.
Just Resting 1
31/03/2018
I took a fancy to this pretty little fawn for my next pastel painting. After the sketching out I had a little bit of time to get some of the base colours in and work a bit on the eyes and nose for this first session. I do like to see some eyes looking back at me as I work so they are often put in first, they will be strengthened a bit more as I progress further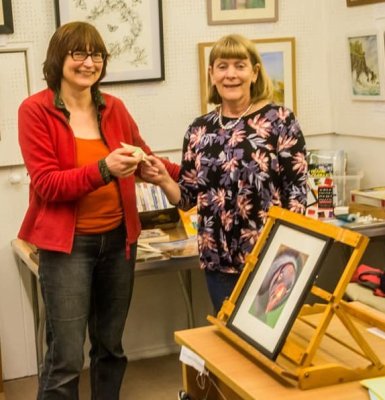 Third Prize !
29/03/2018
I was delighted to be awarded third prize for my King Vulture at Porthcawl Art Society Spring Exhibition. I was certainly surprised as he is such a mean looking bird, but he is also full of character too. Anyway, he caught the judges eye that`s for sure. Here I am, with Lesley Dearn (our Judge this time) who is an accomplished artist teaching and running workshops and classes in the local area.
New Exhibition opening on Good Friday !
27/03/2018
I have four artworks in this exhibition and am on duty all day this Friday from 11am - 3pm. Pop in if you are in the area for a browse and a chat, we have a lovely selection of various artworks on display from local artists together with hand made cards/bookmarks and even some quality art materials for sale. Would love to see you :-)
`What a Catch` 3
24/03/2018
I have spent a lovely morning working on the puffin with his catch of fish. I think he is now complete as I have strengthened all the lights and darks and worked all the detail too. Another painting ready for my April Exhibition !
`What a Catch` 2
20/03/2018
A bit more progress made today, am away from home at the moment but decided to bring my artwork with me in the hope that I might get some time for it.
A good move as I have had a couple of hours to spare this afternoon to escape to my other world. All the base colours are in now. I have used a fairly bright blue underneath the black as I don`t want it to look too stark. The eye is in too although I may strengthen in the next session. All coming along nicely so far :-)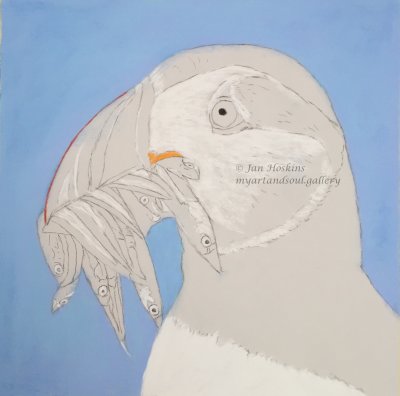 `What a Catch` 1
18/03/2018
I have chosen a pretty puffin for my next piece. Another bird with beautiful, bright colours. Nature is such a wonderful thing ! Am working this one on pastelmat which I am finding is a great paper for birds especially. It is totally different to the paper I usually work on though so it does take a bit of getting used to as I adjust to it. I have selected a lovely light blue for the background which I think will enhance the birds colours even more. Have reserved some of the whites and am just starting to add a bit of colour.
`Green Eyes` 3
17/03/2018
This next stage hasn`t gone to plan and I have darkened the background now to enhance the lioness as she seemed to have faded into the other, more natural background. I have spent alot of time going over the detail work too. It`s time to stop now though and call her finished...so here she is !
`Green Eyes` 2
13/03/2018
The second step is complete, have strengthened the base colours and the background. She is very colourful right now but the detail work to go on top will tone it all down.
`Green Eyes` 1
11/03/2018
The start of a lioness with such beautiful green eyes. This is on a sandy coloured paper which compliments the colours of the lioness. Sketched out in black and white with some colour added to the nose and eyes. The background has been blocked in lightly too !
Foxy Lady !
10/03/2018
Worked in hard/soft pastel on velour and finished at last after a bit of a topsy turvy week ! The colours have been strengthened and more work completed to enhance the eyes. Lots of hours then on the detail work, one of my favourite tasks ! Am reasonably pleased with this one, The trouble is that I am comparing it to another I did that was similar ! Not a good idea, I know ! One exhibition is fast approaching now, so time to make my mind up which pieces are going in to this first exhibition, and I must get them framed up ready too. With thanks to another of my favourite photographers, Samantha Georges, who I am so grateful to, for permission to use her photo reference to work from :-)
Foxy 2
03/03/2018
Some more work completed on the lovely fox today, the background is complete I think, have strengthened those gorgeous eyes and the nose and base colours. I have also started some of the detailing, still lots to do, including the foreground and shadow area. Hope to get another session in soon as I can`t wait to spend some more time with him
Foxy 1
01/03/2018
I have spent the afternoon on a new artwork and am back on my favourite paper and also one of my favourite subjects. Love foxes. The base colours are nearly complete and I have also completed some work on the eyes. Will put the background in next
`Who`s a Pretty Boy Then ?`
01/03/2018
I sprayed him with fixative before continuing further but found it difficult to add any more layers on top, have managed to strengthen the colours though and now this King Vulture is ready for framing ! He is like marmite...you either love him or hate him but his colours are just so beautiful aren`t they?
King Vulture 2
26/02/2018
I am not keen on the paper I`m using but I have made good progress with this bird artwork today. All the colours are in and blended, just needs some shadow on the right hand side and some highlights and I think he will be finished.
King Vulture 1
26/02/2018
This is just a quick study really, am using a different paper again...I wonder how I will get on with this one. So, just the basic drawing completed so far. Am looking forward to the next step as the colours in this bird are absolutely beautiful.
`This is the Life`
25/02/2018
Looks like he is complete. A good choice to choose a little field mouse for a little painting I think. He is just so cute and definitely worth all the fiddly bits I encountered while working on him. All the background colours have been strengthened again to ensure the detail work stands out.
Little Field Mouse 2
24/02/2018
Have spent a fair bit of time on my little mouse again today, it`s trickier when working smaller I think and it seems to be taking me longer than a larger piece. Have strengthened the background and the base colours on the little fella. Just starting to work some of the detail too. He is very delicate isn`t he ?
Little Field Mouse 1
23/02/2018
This little field mouse is on the easel today. Just light base coats in so far and the beady little eye. Looking very cute there where he is perched I think. Am working on some smaller pieces now and this one is just 6" x 8"
The Kingfisher 2
17/02/2018
I have worked on this beautiful kingfisher all day and I am pretty sure he is finished. I got so engrossed in this piece that I forgot to stop for lunch...oops ! I also forgot to take some more progress shots as I worked. And I really enjoyed working on the different paper once I got used to it too ! Such a beautiful little bird, I love their colours. I sometimes see one down by the river not far from where I live. With grateful thanks to Julie Hunt for such an amazing photo reference to work from
The Kingfisher 1
17/02/2018
Am using a different paper with this new artwork I have started. I have many different pastel papers to choose from and am thinking it is time to use some up. It`s coming along ok but I am already wishing I was on my favourite paper instead now. Anyway, I have blocked in the background, worked briefly on the eye and just made a few marks on the bird itself so far.
The Red Squirrel 3
14/02/2018
I have spent the last couple of days on the squirrel and the tree working on the detail. It`s surprising how many different colours have actually been used in this piece, I think he is finished but as always, will look at him again over the next day or so in case I choose to tweak here and there. With grateful thanks to Chris Allsebrook for the fantastic photo reference to work from
The Red Squirrel 2
12/02/2018
All the base colours are in and the squirrels colours look so striking and beautiful. He looks like he is about to pounce I think, I wonder what he is after !
The Red Squirrel 1
08/02/2018
I have just started this new artwork today, I have not done a squirrel in pastel before (only acrylic). The black and white sketch is complete and I have also added some colour to that beautiful eye. He looks a bit cheeky doesn`t he ! Am looking forward to the next step now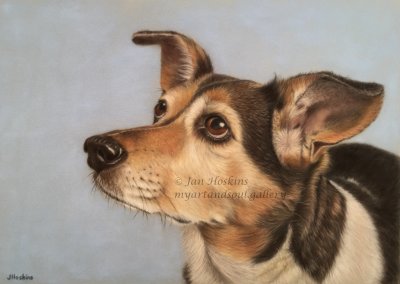 `Anticipation`
04/02/2018
This beautiful dog is complete after a few more hours of detail work and a bit of tweaking here and there. Am extremely pleased with the end result and am thinking I will call this one `Anticipation` Now, what shall I do next I wonder ?
Terrier/Beagle Cross 3
03/02/2018
A great deal of work completed today. Most of the morning was spent strengthening the base colours here and there with further detail worked on the eyes and nose. And then the whole afternoon was spent detailing all the fur and other areas, have even put the whiskers in, that`s how close it is to completion. I am really looking forward to the final session on such a beautiful dog
Terrier/Beagle Cross 2
02/02/2018
Today`s progress, all the base coats are in now, with some further work completed on the eyes, that left eye is looking much better now. I have also spent some time on his nose today too. Have put a light background in which will probably stay light as I really like it as it is (at the moment, anyway) She certainly is beautiful isn`t she ?
Terrier/Beagle Cross 1
28/01/2018
I have started this new artwork today, I love the look on her face, the basic sketch is complete with some lights and darks reserved and the eyes worked on briefly. The eye on the left is not quite right, hopefully I can adjust accordingly on my next session. With thanks to Karen Broemmelsick for the fantastic photo reference to work from
Unconditional Love 5
28/01/2018
I have altered the paw just a touch to soften off a little. I think it has improved the overall look of this painting. I am very happy with the way it`s turned out and I am extremely grateful to June`s Reference Free Photos for Artists for permission to use her photo to work from. Another piece complete for one of the exhibitions I have coming up.
Unconditional Love 4
27/01/2018
I have spent the afternoon on all the detail work and am just starting to lose the light now. Am unsure whether this work is complete or not so will look at it again tomorrow with fresh eyes to decide. I really love the subject, it`s something different and a little bit special I think. I did miss not having any eyes looking back at me though. With grateful thanks to June Photography for the fabulous reference photo to work from
Unconditional Love 3
27/01/2018
It`s Saturday and I can spend the whole day `lost` in my other world, Bliss ! Well, the morning has flown by but I have made good progress and just as I am starting to get engrossed in adding the detail work I realise it is lunch time already...back soon !
Unconditional Love 2
25/01/2018
It`s been a really busy week, so not much time for my artwork, but today I have some free time at last so am going to make the most of it. I have all the base colours blocked in now and it all looks rather strange, especially the hand. Am looking forward to the weekend now when I will be able to spend more time on this piece
Unconditional Love 1
21/01/2018
I love the subject of my new artwork. I think the hand is going to be the trickiest part, the basic sketch is complete and I have also blocked in the background lightly
`On the Prowl`
20/01/2018
Well I have spent the whole day working on this tiger and I have enjoyed every minute. This afternoon I have strengthened the eyes and the background and then worked on all the detailing everywhere else. I am delighted with how he has turned out, it`s just been one of those days where everything has gone to plan thankfully. I love him...and I now have a title for this painting - On The Prowl !
The Tiger 2
20/01/2018
Was up very early this morning waiting for it to get light so that I could continue with the lovely tiger. Have made excellent progress, lots of work on those gorgeous eyes and have blocked in all the colours on the tiger and strengthened the background a little too...time for a lunch break now...back soon.
The Tiger 1
19/01/2018
I have two new exhibitions coming up in a couple of months time so I really need to get cracking on completing some new artworks to put in. I have chosen this beautiful tiger for my first new piece. The initial sketch is complete with a touch of colour here and there and I have also blocked in the background lightly too. Am pleased with today`s progress and am looking forward to working on him again tomorrow. With thanks once again to Chris Allsebrook for another fantastic reference photo to work from.
Rocking in the New Year !
01/01/2018
Welcome to 2018 everyone, wishing you all good health and happiness over the coming year. I have been enjoying a bit of rock painting in acrylics for a change over the Christmas break, they make great little gifts and are great fun to do, these two have already gone to their new homes
(With thanks to Badger Etter and Jan Szymczuk for the fantastic reference photos I worked from)
Let`s get this show on the road...
09/12/2017
I still have some work to do here but I think it`s time to get this show on the road. Am very excited to be getting my very own website up and running, will learn as I go along how to do everything to keep it all in order. Anyway, I haven`t really got any arty news to report today so I am posting a pic of my little best friend out in the little bit of snow we woke up to this morning...